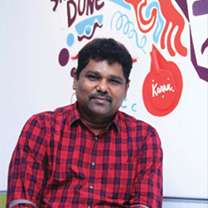 Freshdesk, a cloud-based customer support company founded by Girish Mathrubootham and Shanmugam Krishnaswamy, is one of a select few from India to successfully sell enterprise software to marquee global customers. As alumni of Zoho, a Chennai-based company that pioneered this model, the founders began with a clear vision of the market opportunity. Beginning with customer management solutions on email, phone and social media, the five year old company is looking to build solutions based on new technology areas including machine learning and artificial intelligence.
Freshdesk is present in 145 countries and supports about 80,000 customers, competing with global firms like Zendesk. It has raised a total of $94 million, so far, from investors such as Tiger Global, Google Capital and Accel Partners. Last year, Freshdesk made five acquisitions demonstrating an appetite for speedy growth.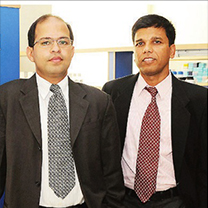 Mallik Sundaram & Pradip K. Majumder
Mitra Biotech's patented technology platform, Canscript, helps hospitals and doctors figure the right combination and sequence of drugs to be administered to cancer patients. Canscript analyses biopsy samples to arrive at specific combinations of drugs and the treatment to be given to specific patients. Canscript measures a number of functional parameters including cell viability, proliferation, death and morphology.
Canscript needs about a week to test samples and classify various drug combinations as potential responders and non-responders, enabling physicians to take informed decisions on the treatment to administer. Mitra Biotech was established in 2008 as a US company. It moved from Boston to Bengaluru the following year to validate its technology platform. Canscript has been validated for eight different cancer types on 2,000 patients.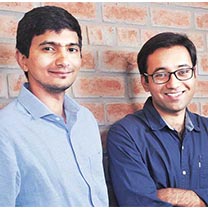 Tarun Mehta  &  Swapnil Jain
The three-year-old startup has developed a smart scooter that will get to know its users better, the more they ride it. Each user will have their own profile so the scooter, named S340, can analyze their riding habits and tell how they can improve. That's in addition to helping with navigation. The S340 was nothing more than an idea when the founders, IIT-Madras graduates Tarun Mehta and Swapnil Jain, reached out to their alma mater for support. The engineering school was home to their initial experiments.
Ather Energy got a tremendous boost when Flipkart founders Sachin Bansal and Binny Bansal decided to back it. Later, Tiger Global, too, invested in the company. The S340 is fitted with a lithium-ion battery that gives a mileage of 60 km on a single charge. The scooter's top speed is 72 kmph. A single charge takes about an hour. Ather Energy is setting up a production unit in Bengaluru and plans to begin manufacturing by the end of this year. Ather will build an online-only sales model with doorstep delivery and service.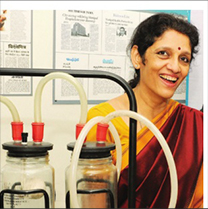 Meena Ganesh is managing director of healthcare startup Portea Medical, which she cofounded in July 2013. The company has 4,500+ employees and operates in 20 cities in India. Portea offers a range of geriatric, chronic and post-operative care services to patients in their homes. Ganesh has almost three decades of experience across varied industries, including healthcare, consulting, technology, outsourcing, education and ecommerce. Until February 2013, she was a promoter and board member of TutorVista, which included Edurite, a provider of technology-based solutions and digital content. TutorVista was acquired by Pearson, the education services company, for $213 million.
As partner of the platform Growthstory.in, she is also co-promoter of almost a dozen startups, including Bigbasket.com, the e-grocery retailer; Home Lane, the home solutions startup; FreshMenu, the food-tech startup, and Bluestone.com, the online jeweler. She also serves as a member of the board of directors of Bigbasket.com and avagmah.com. Earlier, Ganesh set up the Tesco Hindustan Service Center and served as its CEO. Before Tesco' she cofounded Customer Asset, a BPO company that was sold to ICICI OneSource.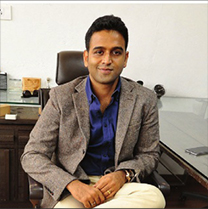 The online discount brokerage offers equity investment services, currency and commodity trading, and retail and institutional broking. It accounts for about 4% of the retail trade volumes on BSE and NSE.  Zerodha also offers mutual fund investment services and hosts three learning platforms—stock market education platform Zerodha Varsity; financial blog Z-Connect; and Trading Q&A that provides answers on trading from investors and traders. Founder Nithin Kamath has also set up Rainmatter, an in-house incubator for financial technology startups.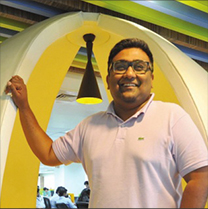 Kunal Shah became financially independent at 16, selling T-shirts, mixed tapes and even teaching internet courses. After a bachelor's degree in philosophy from Mumbai's Wilson College, he briefly pursued an MBA from Narsee Monjee Institute of Management Studies before dropping out. Shah initially started a company called Paisaback that offered cash-back promotions for organized retailers. These retailers became reliant on Paisaback to drive sales.
Shah decided to put the profit earned from Paisaback into a pivot called FreeCharge, which was aimed at driving footfalls for restaurants and retailers. Starting with prepaid phone bill recharge, FreeCharge is now present across several bill payment and recharge categories. In April 2015, Snapdeal bought FreeCharge for about $450 million, the largest acquisition deal in the Indian internet sector. Shah resigned as CEO shortly after but remains chairman of the company overseeing strategy and M&A.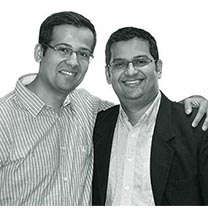 Shardul Sheth and Sitanshu Sheth
AgroStar is a mobile commerce platform through which farmers can procure raw material by giving a simple missed call or through the startup's mobile application, which it launched in June. Already, at least 40,000 farmers in Maharashtra, Gujarat and Rajasthan are active on the app. For rural Indian farmers, the main hurdles are product unavailability, unfair pricing, substandard quality and a lack of real-time information, all of which AgroStar addresses. The startup has partnered with more than 150 brands including multinational companies such as Syngenta to provide raw materials, seeds, fertilizers and other agricultural inputs. Farmers purchase goods at market price and are assured of quality and doorstep delivery services. The company also provides real-time information and assistance through its app to help farmers increase yields. Since its launch, AgroStar has served at least 700,000 farmers across Maharashtra, Gujarat and Rajasthan.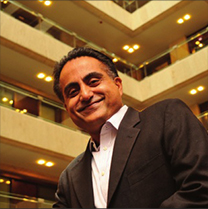 Avnish Bajaj is a rare venture capital investor to have successfully built and sold a consumer internet business in India. Online marketplace Baazee, which he cofounded in 2002, was acquired by eBay two years later for $55 million. The Harvard MBA then served as a country manager for eBay India before he established Matrix Partners India in 2006, which manages $700 million across two funds. As an investor, Bajaj was initially not convinced about the scope of the internet market in India and put money in sectors like healthcare. One rare internet investment during this period was in Quikr, which is now valued at $1.4 billion. As online retail in India gained steam, Matrix in 2013 put money in Ola, leading a $15-million round that valued the taxi aggregator at $40-50 million. Ola is now worth $5 billion. Practo, in which Matrix invested at a valuation of around $150 million in February 2015, is now worth more than $500 million. Bajaj's early healthcare bets have also started paying off. Matrix in December sold its investment in maternity chain Cloudnine Hospitals, earning 7x returns.