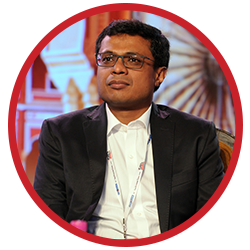 Co-founder of Flipkart
A graduate of IIT Delhi and cofounder of India's most valued startup Flipkart, Sachin Bansal has become a significant part of the Indian startup ecosystem over the last 5-7 years. After graduating from engineering school, Bansal joined TechSpan Engineering for a few months before switching to Amazon.com in 2006 as senior software engineer. Six months into this job and Bansal (teamed up with Binny Bansal) decided to move out and startup.
In 2007, Flipkart was founded as an online seller of books. And over the last 10 years, Bansal has had a series of ups and downs running the company he cofounded. Flipkart has been one of the most well-funded startups in the Indian ecosystem with the likes of Accel Partners, Tiger Global Management, and the latest being SoftBank, investing in the ecommerce company.
Bansal was spearheading the operations of Flipkart as its CEO until 2016 when his cofounder Binny Bansal was asked to take over the helm. This is when Bansal was elevated to the position of group Chairman. Bansal launched a private label 'Billion' and was heading its operations for the team.
It was recently announced that US retail giant Walmart intends to invest $16 billion in Flipkart after which Bansal decided to exit from the company.
Apart from cofounding Flipkart, Bansal also mentors several startups and is an active angel investor.
Bansal has several laurels to his credit. He made it to the 65th position on the Forbes 2016 Indian Billionaires List. India Today magazine ranked him #26th along with Binny Bansal in India's 50 Most powerful people of 2017 list.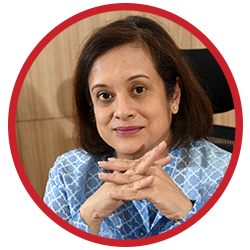 President, Nasscom
Debjani Ghosh is the President of Nasscom, the $167 billion IT-BPM services industry body. Ghosh is a former managing director, Intel South Asia. In April, she took over from R Chandrashekhar as the President of the technology services industry body.
Ghosh is the fifth and the first woman President of NASSCOM and a veteran of the technology industry with two decades of experience. She was the first woman to lead Intel India, Manufacturers' Association for Information Technology (MAIT).
In January 2018, Debjani was felicitated by the President of India under the auspices of the "First Ladies" programme, which honours exceptional female pioneers in their fields. She has been consecutively named as one of the 20 Most Powerful Women in Business in India by Fortune magazine during the past five years.
Debjani is a non-executive director on the board of Yes Bank and also an angel investor in a few startups.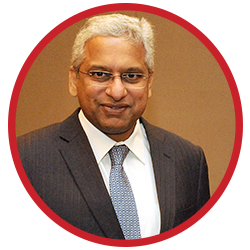 Chairman & MD, Quess Corp
Ajit Isaac is the chairman and managing director of Quess Corp. A pioneer of temp staffing in India, Isaac is a first generation entreprenuer who has built two successful services companies – PeopleOne Consulting, which he sold to Adecco and Quess Corp.
Isaac's strategy is to look at areas that are complementary to his business ; acquire small companies and give the management free hand to run these firms. Quess has invested or acquired nearly two dozen firms and has emerged as among the top private sector employers in the country.
Isaac, holds an under-graduate degree in commerce, and is a gold medalist in his post-graduate programme at the Madras School of Social Work. He is also a British Chevening Scholar from the University of Leeds, UK.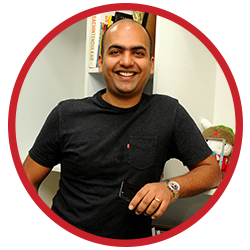 India head and Vice President, Xiaomi
Manu Kumar Jain has climbed the ladder at Chinese phone company Xiaomi rapidly to become its vice president and managing director of the India arm after joining the company in October 2014. He is credited with having built Xiaomi as the market leader in the smartphone segment in India, and is now also aggressively pushing Mi.com which has already become the third largest online portal for smartphone shipments in the country behind Flipkart and Amazon.
Jain, 37, is expected to make a killing out of Xiaomi's IPO expected soon. He is the only Indian on Xiaomi's board and senior management team who has shares, and is the third-highest ESOP holder in the company. 
After having created a stellar success for Xiaomi in India, Jain became the vice president of Xiaomi in January last year after the company's ex-global VP Hugo Barra quit. 
Jain was earlier the co-founder and managing director of fashion e-commerce site Jabong, which he exited in 2014.  He had a four-year stint at McKinsey & Co before his entrepreneurial journey.
Interestingly, before becoming an internet entrepreneur, Jain was a cartoonist, having created a cartoon series called DINK couple.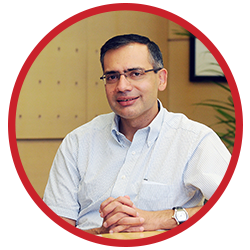 Chairman & Group CEO, MakeMyTrip
Deep Kalra, 48, can rightly be credited with building the most successful internet venture to have emerged from Indian shores.
Eighteen years ago, the chairman and group CEO of MakeMyTrip, the country's largest and Nasdaq-listed online travel operator, took what is now perceived as not only a prescient bet on India's then-nascent internet economy, but also on its population that had an emerging middle class, which was getting increasingly wealthy, and thereby eager to flex its new-found spending power.
In 2010, the Gurgaon-headquartered company set another notable benchmark, when it decided to go public on Nasdaq, the US-based tech-dominated stock exchange. With Kalra at its helm, MakeMyTrip made a successful debut on the bourses, and currently has a market capitalisation of about $3.4 billion.
Back in 2000, entrepreneurship in India did not have the hallowed tag as it perhaps does today. Kalra certainly bucked the norm, when he decided to resign from GE Capital, and start MakeMyTrip. Till then, the Hyderabad-born IIM Ahmedabad alumnus had ticked pretty much every box that was seen as necessary to move up the corporate ladder.
Kalra, who did his schooling from Delhi's St Columba's, one of the capital's most elite institutions, followed by a degree in Economics from St Stephen's College, certainly had the pedigree that would see him welcomed with open arms by corporate India.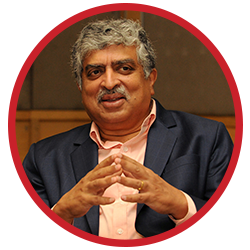 Co-founder and Non-Executive Chairman, Infosys
Nandan Nilekani is a co-founder and chairman of Infosys. He is the architect of the Aadhaar programme, where he was Chairman of the Unique Identification Authority of India (UIDAI) in the rank of a Cabinet Minister.
Born in Bengaluru, Nilekani received his Bachelor's degree from IIT, Bombay. In 2005 he received the prestigious Joseph Schumpeter prize for innovative services in economy, economic sciences and politics. In 2006, he was awarded the Padma Bhushan. Fortune Magazine conferred him with "Asia's Businessman of the year 2003.
Nilekani is also Co-founder and Chairman of EkStep, a not-for-profit effort to create a learner centric, technology based platform to improve basic literacy and numeracy for millions of children. Together with his wife, Rohini Nilekani, he has pledged half his wealth towards philanthropic activities.
He also wrote "Imagining India" and co- authored his second book with Viral Shah, "Rebooting India: Realizing a Billion Aspirations".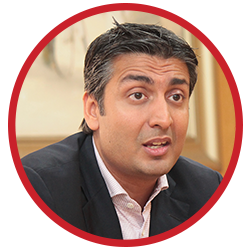 Chief Strategy Officer and Board Member, Wipro
Rishad Premji is the Chief Strategy Officer & Member of the Board, Wipro Limited. In his role, he also leads the Investor Relations & Corporate Affairs functions for the company. He joined the company in 2007.
He heads the company's $100 million venture capital arm Wipro Ventures. The fund invests in start-ups developing technologies and solutions that will complement Wipro's businesses through next-generation solutions and products.
Prior to joining Wipro, Rishad was with Bain & Company in London, working on assignments across Consumer Products, Automobiles, Telecom and Insurance. He has earlier worked with GE Capital in the US across several businesses throughout the Insurance and Consumer Lending space and is a graduate of GE's Financial Management Program (FMP).
Premji has an MBA from Harvard Business School and a BA in Economics from Wesleyan University in the US. He has also spent a year at the London School of Economics where he was part of the General Course Programme.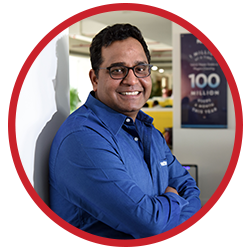 Founder of Paytm
Born and brought up in Aligarh in Uttar Pradesh, Vijay Shekhar Sharma went to Delhi College of Engineering before starting One97 Communications. From struggling with basic English which cost him a seat at the IIT to becoming the youngest billionaire in the country Sharma has traveled a long distance. Sharma founded One 97 Communications which is the parent company of Paytm in 2000 and started Paytm in 2010.
While he shot to fame with his payment product Paytm, he founded multiple other businesses as well including Paytm Mall and other financial subsidiaries of One97 Communications like Paytm Money, Paytm Insurance, and Paytm Entertainment.
Paytm received the biggest boost in business with funding from Chinese payment giant Alibaba which brought in around $700 million into Paytm. This was supported by another mega round of funding of $1.4 billion led by Japanese telecom giant Softbank.
Besides being the founder of the most successful payment company Vijay Shekhar Sharma was also awarded the payments bank license by the Reserve Bank of India in 2016.
Sharma has also been the recipient of multiple awards in his entrepreneurial journey: he won the ET Entrepreneur of the Year award in 2016, he also broke into the GQ India's 50 Most Influential Young Indians of 2017.